Fabric Racks & Work Stations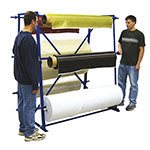 The workhorse
Designed specifically for composites, this rack will hold up to six rolls of fabric and is suitable for even the heaviest materials. This rack is extremely stable and does not require rolls to be counter-balanced. Rack is predrilled to attach casters (sold separately) for portability. Dimensions: Width: 74" - Height (without rolls): 73.5" - Depth: 48" Freight shipping required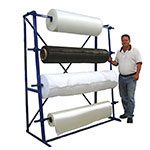 Perfect for Vertical Spaces
This four roll fabric rack comes predrilled and ready for floor mounting hardware. The extremely stable design does not require top mounting and is suitable for heavy mats and fabrics. However, this rack is not suitable for casters and is designed for floor mounting only. Floor mounting hardware sold separately. Dimensions: Width: 74" - Height (without rolls): 75.5" - Depth: 28.75" Freight shipping required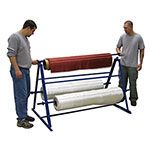 Sturdy and convenient
This mid-size rack is capable of hanging up to three rolls, with each bar able to hold up to 250 lbs. It is predrilled to attach casters (sold separately) for easy movement. Dimensions: Width: 74" - Height (without rolls): 40.5" - Depth: 42"
Make any fabric rack portable. (Set of 4)
These high-quality swivel casters are fitted with 5" polyurethane wheels and can be easily installed on any of our fabric racks to allow even a full 6 roll rack to be moved by one person. Smooth ride keeps racks stable when moving, then engage the brakes to keep rack in place for unrolling and cutting.
Wedge Anchors for Floor Mounting Fabric Racks. (Set of 4)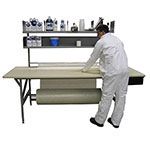 Keep materials organized and accessible
This workcenter has everything you need to keep your fabric and supplies organized and accessible. The single fabric rolling bar is 66" wide, holds up to 200 lbs., and is capable of handling a roll up to 32" in diameter - ideal for heavy mats, fabrics, and woven roving. The extra large work table is 96" wide and 36" deep. With a tension guide and tension bar, your fabrics can be held in place and the large work area allows plenty of room to maneuver. Two 72" wide shelves are plenty for your tools and supplies, The top shelf is 13" deep and comes with 7 dividers with multiple installation points. The lower shelf is 8" deep and allows 10-1/4" of storage space beneath the top shelf. This workcenter is also equipped with an extra sturdy storage drawer for easy access to your cutting tools and supplies. (Assembly Required.) Ergonomically designed at 35" from the floor, there is no need for stooping. Dimensions: Width: 96" Height: 76" Depth: 36" Freight shipping required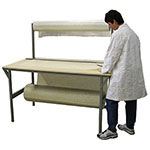 Easily work with multiple fabrics
This composite cutting station is ideal for storing and cutting fabrics. It has two bars for holding fabrics, each up to 52" wide, with the lower bar holding up to 150 lbs. and the top bar holding up to 70 lbs. With a tension bar and tension guide, fabrics can be pulled onto the table and kept smooth and even. The table area is 30" deep by 64" wide allowing plenty of room for cutting while allowing enough room to work. 35" from the floor, the ergonomic height is ideal for most adults. (Assembly Required.) Dimensions: Width: 64" Height: 59" Depth: 30" Freight shipping required