Learning Center - Vacuum Infusion - The Equipment & Process of Resin Infusion Brochure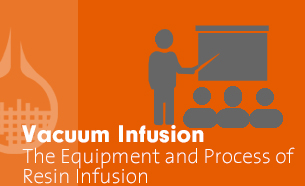 Long known as the experts in fiberglass technology, Fibre Glast Developments, Inc. has once again taken the lead in the field of vacuum infusion. From a comprehensive step-by-step guide to a full range of product solutions, including a customized trial kit, Fibre Glast has it all.
Resin infused parts generally obtain higher strength-to-weight ratios than hand lay-ups or traditional vacuum bagging. Utilizing a dry lay-up with unlimited set-up time, vacuum pressure is used to drive resin into the laminate. The process is clean, efficient, and capable of producing stronger and lighter parts!
To learn more, check out the links listed below.
Fibreglast.com is the worlds leading supplier of Vacuum Infusion supplies and equipment.